Product Summary
The BSM300GA120DN2 is an IGBT Power Module.

Parametrics
BSM300GA120DN2 absolute maximum ratings: (1)Collector-emitter voltage VCE: 1200 V; (2)Collector-gate voltage, VCGR: 1200 V; (3)Gate-emitter voltage VGE: ± 20V; (4)DC collector current, IC: 430A; (5)Pulsed collector current, tp = 1 ms, ICpuls: 860A; (6)Power dissipation per IGBT: 2500W; (7)Chip temperature Tj: + 150 ℃; (8)Storage temperature Tstg: -40 to + 125℃; (9)Thermal resistance, chip case RthJC≤ 0.05 K/W; (10)Diode thermal resistance, chip case RthJCD≤ 0.125K/W; (11)Insulation test voltage, t = 1min. Vis: 2500 Vac; (12)Creepage distance: 20 mm; (13)Clearance: 11mm; (14)DIN humidity category, DIN 40 040: F sec; (15)IEC climatic category, DIN IEC 68-1: 40 / 125 / 56sec.

Features
BSM300GA120DN2 features: (1)Single switch; (2)Including fast free-wheeling diodes; (3)Package with insulated metal base plate.

Diagrams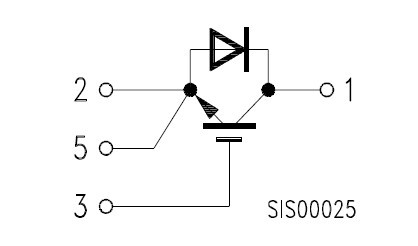 Image
Part No
Mfg
Description
Pricing
(USD)
Quantity

BSM300GA120DN2

Infineon Technologies

IGBT Modules 1200V 300A SINGLE

Data Sheet



| | |
| --- | --- |
| 0-1: | $96.32 |
| 1-5: | $91.59 |
| 5-10: | $86.69 |
| 10-50: | $76.73 |


BSM300GA120DN2E316

Other



Data Sheet

Negotiable

BSM300GA120DN2FS_E3256

Infineon Technologies

IGBT Modules IGBT POWER MOD 1200v 300A

Data Sheet



BSM300GA120DN2FS

Infineon Technologies

IGBT Modules IGBT 1200V 300A

Data Sheet



BSM300GA120DN2S

Infineon Technologies

IGBT Modules 1200V 300A SINGLE

Data Sheet



BSM300GA120DN2S E3256

Other



Data Sheet

Negotiable

BSM300GA120DN2S_E3256

Infineon Technologies

IGBT Modules IGBT 1200V 300A

Data Sheet



BSM300GA120DN2SE3256

Infineon Technologies

IGBT Transistors 1200V 300A SINGLE

Data Sheet